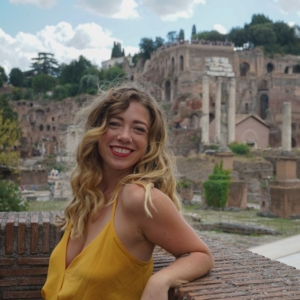 Q: Where were you born and where do you currently live?
A: I was born in Redwood City, CA in Northern California and I currently live in San Diego.Q: What is your role at HUSD?
A: My role at HUSD is to curate the weekly playlists since music is my passion! I will also be helping with SEO & Website Design
Q: What sets your soul on fire?
A: Crowdsurfing in a Panda Mascot costume while listening to my favorite bands
Q: What do you want to make sure you do before you die?
A: I want to inspire people to live out their dreams to the fullest and never give up even if it seems crazy. Once you believe in yourself and are willing to work fearlessly to reach your dreams, I promise the universe will deliver.Q: What are some of your daily habits?
A: I love doing yoga, exercising, going to concerts, traveling, laughing, writing, and taking photos.
Q: What are you happiest doing when you're not working?
A: Going to concerts and traveling meeting new people and doing yoga!
Q: What are your top 3 favorite books?
A: A Wrinkle in Time, Lord of the Fliers, 1984
Q: What's your favorite recipe to cook?
A: Scrambled eggs, cooking is not my strength LOL
Q: Favorite quote?
A: "I snatch what matters and scatter the rest to the wind" – Bruce Lee
Q: If you could have dinner with anyone in the world, dead or alive, who would it be?
A: Bill Murray
Q: You're a crayon in the box. What color would you be and why?
A: Green because
Q: What is a cause you care about?
A: I really care about helping children at orphanages in Tijuana and the migrant children. I'm half Salvadoran and love volunteering to bring smiles to their faces.
Q: What is the most courageous thing you have done in your life?
A: I left my job to do a panda crowd surfing tour around Europe. Follow your dreams kids!